"Hello. My name is @WLAdams.  I have a Twitter addiction."
"Hi @WLAdams.  So… How long have you been addicted to Twitter?"
"Pretty much since my first tweet.  This is my first time at Twitter-holics Anonymous.  I really enjoy Twitter.  I like the immediacy of the medium.  I love it when I'm re-tweeted (RT) or followed, or if someone favorites a tweet-o-mine.  Engaging with fellow tweeters make me feel good.  I want to use Twitter to help my online business grow.  Now, I feel like it's gotten out of control."
"Hmm.  How do you feel if tweeters don't engage with you?  Does that make you want to work on your Twitter addiction?  Take this quiz to see how addicted to Twitter you are."
"I dunno.  I mean, I know everyone is attracted to certain people.  I guess I feel a little down about it, but I don't know what to do about it."
"How'd you like to Increase Twitter Engagement by 324%?  Would that make you feel better?
"Yeah, but how?"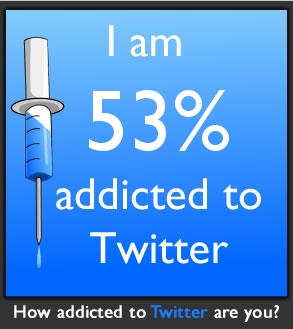 Created by
Oatmeal
"This guy @NeilPatel knows a lot about this.   And by the way, I don't think your Twitter addiction is all that bad.  It might help you out if you look at this thing Neil made…"
Infographic Courtesy of: Quick Sprout
There are a lot of tools and software to help make your Tweeting better for your business.  If you're not using them, you're making a lot more work for yourself.  Here's some of the best Rock Solid Twitter tools for you.
Buffer – One of the big complaints I hear about Twitter is it takes too much time.  Personally, I have not found this to be the case.  Instead of sending 6 tweets all at once, Buffer makes it easy to schedule Tweets.  You choose the times you want to send your Tweets.  This alone helps you by tweeting when your followers are listening.  It also helps you compensate for different time zones.  The free version lets you Buffer up to 10 tweets.  Of course if you go premium, you get unlimited use.
Hootsuite – This tool is one of the first ones I found as I started to look for help managing my different social media accounts.  What makes Hootsuite better is the ability to "send and schedule Tweets, listen using search, list and keyword tracking streams, as well as monitor Mentions, Direct Messages, Sent Tweets, Favorited Tweets, and more in dedicated streams."  You can monitor more than just Twitter too.   All major social media can be followed from Hootsuite.  Individuals can use it for free to monitor up to 5 sites.   A small business would be nuts not to use the first premium tier to monitor their results.  It's only $9.00/mo.
SproutSocial – First of all, SproutSocial is not cheap.  It is a professional tool from one of the most respected companies on the Internet.  There is a free 30-day trial, but after that $39.00/month.  From what I've seen, SproutSocial is a complete all-in-one solution being used by some of the world's biggest brands.  The information is right in front of you.  It's easy to use because the dashboard is laid out very well.  If you're a serious social media player, this is the tool for you.
For more information about tools to help feed your Twitter addiction and manage your social media campaigns, Google "Twitter clients 2014" (or use your favorite search engine).
What tools do you use to manage your social media?  Let me know in the comments for this post.